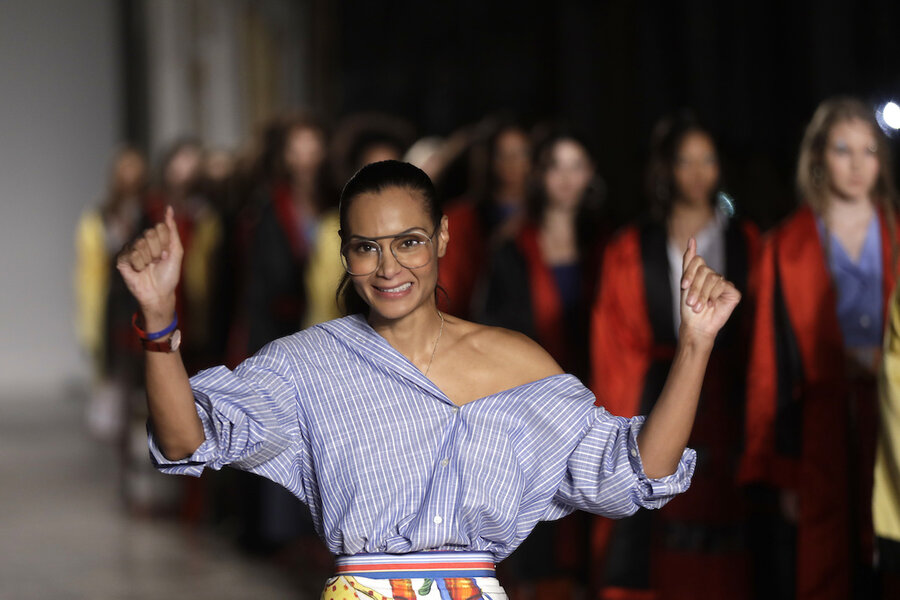 First Look
Italian designer says not enough is being done to support diversity
Stella Jean has withdrawn from Milan Fashion Week to protest the lack of funding for the "We Are Made in Italy" collective of young designers of color. Milan Fashion Week will run Feb. 21-27, 2023.
|
The only Black designer belonging to Italy's fashion council is withdrawing from this month's Milan Fashion Week citing a lack of commitment to diversity and inclusion, and on Wednesday announced a hunger strike out of concern that other minority designers associated with her will suffer a backlash.
Stella Jean told The Associated Press that the Italian National Fashion Chamber had significantly cut back support for the "We Are Made in Italy" (WAMI) collective of young designers of color working in Italy after she made an impassioned speech about the personal price she had paid for highlighting racial injustice in Italy during a runway show last September.
Along with Ms. Jean, the WAMI collective is withdrawing from fashion week, which they were to open with a digital presentation.
Italian Fashion Chamber President Carlo Capasa told the AP that he regretted Ms. Jean's decision, adding that the final fashion week calendar being presented Wednesday is "full of diversity."
"In the calendar that we are presenting today, you will see all that we are doing for people of color who are working in Italy,'' Mr. Capasa told the AP. A news conference was scheduled for later Wednesday.
Ms. Jean sent a letter to Mr. Capasa informing him of her hunger strike, which she said would be revoked only with his written assurance that no professional harm would come to the WAMI designers and supporters "as a result of our history of misunderstanding."
"This admittedly extreme measure of mine stems from having heard several voices from the collective worried about 'soft' or 'hard' repercussions, including difficulty in securing funding and services from sponsors and partners, given the power wielded by you as president of the chamber in the industry,'' she wrote in a letter obtained by the AP.
Mr. Capasa said he hadn't yet read the letter and was unaware of the hunger strike and WAMI's withdrawal. Both Ms. Jean and WAMI appeared on a draft of the Milan Fashion Week calendar of mostly womenswear previews for next winter released last month.
WAMI was launched on the heels of the Black Lives Matters movement in 2020 by Ms. Jean, African-American designer Edward Buchanan, and the head of Afro Fashion Week Milano, Michelle Ngonmo, to draw attention to the lack of minority representation in the Italian fashion world. It followed some racial gaffes by major fashion houses that made global headlines.
As the Monitor reported in September, WAMI's efforts to push for social change in Italy extends beyond fashion houses:
The battle against racism and for equal rights for Black Italians extends far beyond the catwalks of Milan. Even as some of their fellow citizens have trouble envisioning Italians as anything other than white, Black and multicultural Italians are asserting their place in their country's society. By pushing for legal changes to systemically racist citizenship laws, providing support for Black Italians who feel isolated, or using media like Italian fashion to bridge divides, they are staking their claim in a country that sometimes tells them they're not wanted.

"For this generation of young people who were born and raised in Italy … they see themselves as totally Italian," says Camilla Hawthorne, who studies the racial politics of migration and citizenship at the University of California, Santa Cruz. "But there is always this moment that happens in school, whether it is a classmate or teacher, that pulls them out of this sense of, oh, I am just like another kid, where they realize that even though they feel totally Italian, they are not viewed by the rest of the world as Italian. They are always seen as different, as outside, as other, as immigrants."
Ms. Ngonmo told the AP that financial support for the project from the chamber had dwindled over the three years it has run so far, and that Afro Fashion Week Milano wasn't able to come up with the 20,000 euros ($21,000) it would have cost to support the five young designers in making solid looks to present, plus a video.
The Italian fashion chamber fully supported the collections for the two WAMI classes, each with five designers, but that the third generation hasn't received any funding from the chamber, Ms. Ngonmo and Ms. Jean said. The September show featuring Ms. Jean, Mr. Buchanan, and WAMI was financed through other allies and their own contributions.
"Maybe the message is the whole industry needs to open their eyes and say what can we do to make that happen?" Ms. Ngonmo told the AP.
A WAMI designer, Joy Meribe, opened Milan Fashion Week previews for spring-summer 2022, in a major milestone for the movement.
But Ms. Jean said that such moves had turned out to be "performative."
"They used WAMI as a free pass of safe conduct for diversity,'' Ms. Jean told the AP. She said she was withdrawing out of fatigue with the "continual fight" for recognition for designers of color in Italy.
"I am a fighter by nature, but I cannot be this way all the time," she said.