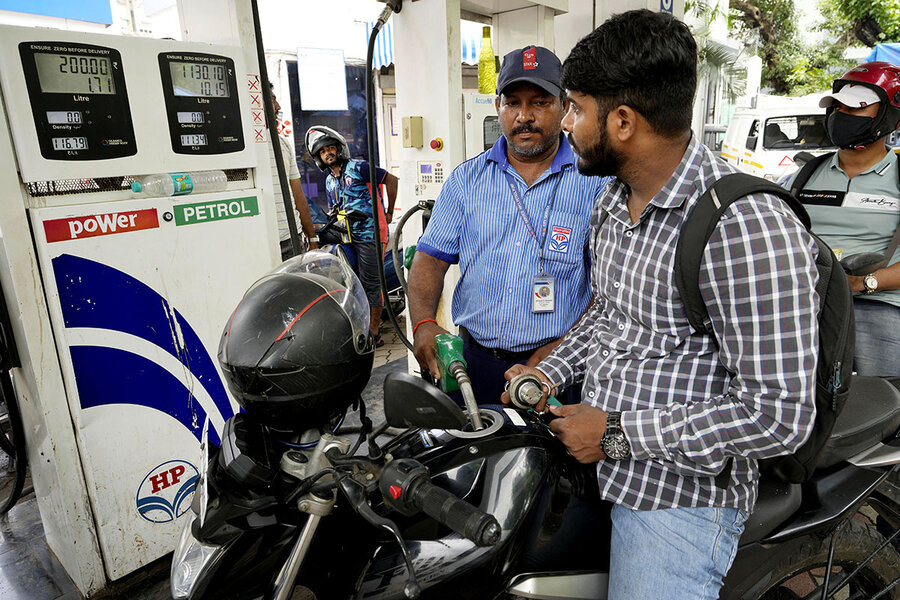 Resilience
Why is democratic India helping Russia avoid Western sanctions?
Russia's ability to endure sanctions relies on the reluctance of countries like India to join the West's economic embargo. The trade channels being formed could have lasting geopolitical effects.
Much of the Global South – including key countries in Asia, Africa, and Latin America – has declined to join the anti-Moscow sanctions regime, and has instead chosen to maintain active political and commercial relations with Russia. This is part of the reason the Russian economy has so far avoided the intended body blows, but it is also reshaping global trading patterns in ways that might outlast the conflict.
In particular, Russian efforts to evade the restrictions that come with using the U.S. dollar in international transactions may be accelerating the process of dethroning the dollar as the world's established reserve currency, with vast implications for U.S. financial and political leadership down the road.
India, a fast-growing, secular, English-speaking Asian democracy with an increasingly Westward-leaning popular culture, serves as a prime example as to why the West is not getting buy-in for sanctions – and how the world may realign.
"India is not happy with what Russia did," says Nandan Unnikrishnan, an expert with the independent, Delhi-based Observer Research Foundation. "But in the longstanding relationship we have with Russia, they have repeatedly proven to be good partners for India. India does not want to lose a friend. As for the moral argument the Americans often cite, well, we don't accept that. It hardly bears mentioning that we can think of zillions of examples of Western hypocrisy."
Protecting national interests
Early in the war, U.S. diplomats made strenuous efforts to convince Delhi to condemn Russian actions in Ukraine, or at least limit its long-standing political and trading relationship with Russia. While privately making clear its disagreement with Russia's war – a view shared by much of India's elite – Indian leaders refused to vote against Moscow in the United Nations or to join in any level of the sanctions campaign. Instead it accepted Russian offers of price discounts, which led to a vast increase in India's imports of Russian oil.
"Basically, India is protecting its national interests," says Mr. Unnikrishnan. "It's known that we have conveyed our private displeasure to the Russians, but we're not joining any unilateral sanctions. It seems to me that the U.S. has accepted this and the kind of pressure they were putting on India last March hasn't figured in recent contacts."
But the structure of Russia-India trade, which has languished since the collapse of the USSR, may be set to change due to Russia's refusal to use the dollar in its transactions with India.
Moscow favors a "ruble-rupee" trade mechanism, which may be more complicated and costly than doing business in dollars, but it evades the U.S. financial controls that go with dollar transactions, and strengthens the bilateral relationship with India. With the huge increase in Russian oil imports to India, Moscow is building up a massive surplus of rupees that Delhi hopes it will invest in India or use to buy more Indian products.
"The immense increase in Russian energy exports to India looks like a lasting phenomenon. India needs it," says Nivedita Kapoor, an Indian expert currently with the Higher School of Economics in Moscow. "If the ruble-rupee mechanism is fully worked out, it should lead to a big increase in Indian products being exported to the Russian market."
Though India does not produce some of the items Russia desperately needs due to Western sanctions, such as microchips, it does make plenty of others.
"Right now the focus is on pharmaceuticals, electronics, machinery, chemical products, medical instruments, and agricultural products," says Dr. Kapoor. "We have already been exporting these goods to Russia, and there is potential for major increases. … It may be harder to expand the list due to the threat of secondary sanctions. In this environment, the Indian private sector looks at Russia as a risky market. But the immediate potential is very big."
Mr. Unnikrishnan says that one way to avoid the long arm of U.S. sanctions – which would hit any attempt to export items with U.S. parts or technology to Russia – is to set up distinct businesses that deal only with the Russian market, as is reportedly already being done in China.
"Some Indian businesses are exploring ways to set up separate production facilities, only for export to Russia. The Indian government is already in the process of certifying Indian generic pharmaceuticals for export to the Russian market," he says. "There are a lot of ways that joint India-Russia collaboration and trade can be expanded."
"A costly and inefficient economic strategy"
Current Russian policy is to push for abandoning dollar trade in every area, and there has been a lot of talk about creating an alternative currency, perhaps for use among the BRICS trading bloc.
It's all easier said than done, says Konstantin Sonin, a Russian expatriate professor at the University of Chicago.
"De-dollarization would be very costly to implement," he says. "People use the U.S. dollar because it's a more stable, reliable, and liquid currency than any other. There is a premium to be paid for using riskier assets. Nothing Russia can do is likely to dislodge the U.S. dollar from this role. The main threats to the dollar are potential internal instability in the U.S., which might undermine the dollar's value, or the possibility that some other big country, like China, might develop a viable alternative."
He says that countries like India are taking advantage of Russia's current weakness to drive hard bargains, for cheap energy and increased exports to Russia, that benefit their own economies. Russia accepts this because its options have been limited by the global sanctions regime imposed by Western powers.
"This makes sense for Russia only as part of a war-fighting strategy in isolation from the West," says Dr. Sonin. "Otherwise it's a costly and inefficient economic strategy for Russia to pursue in the long term."
Dr. Kapoor argues that there is only one way that the benefits of increased Indo-Russian trade can be permanently locked in.
"The best solution would be for Russia to make an early end to this war," she says. "We can envisage a situation where Western companies have already exited the Russian market, and burned their bridges, while the Indian private sector no longer regards business with Russia as a risky proposition, carrying the threat of secondary sanctions. All that would go away for us, but we need to see an end to this war."