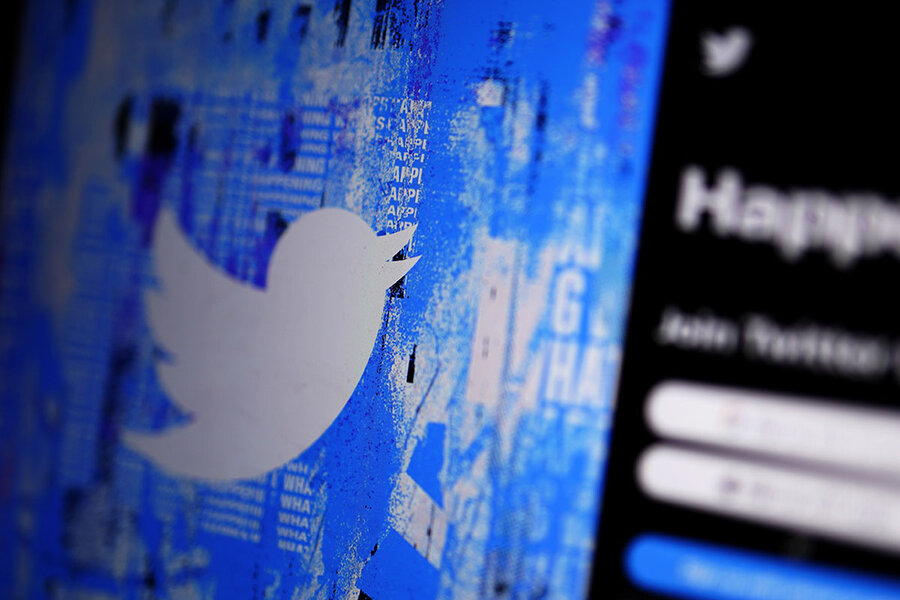 Focus Responsibility
Freedom vs. responsibility? Musk and EU butt heads over online rules.
Elon Musk seems to want to run Twitter like a classic American forum for speech. There's a problem: Twitter is global, and Europe plans to impose the responsibility it thinks such forums require.
Mr. Musk has personally antagonized prominent people and spread misinformation online. He's let a number of far-right figures and others banned from the platform back on – including President Donald Trump, Andrew Tate, and Jordan Peterson – after promising to install a committee to decide such matters. Just before the December holidays, he deactivated the accounts of a group of journalists who were covering him, only to reinstate some of them days later after online backlash. All are potential violations of the EU's new Digital Services Act.
The DSA, which is meant to split the difference between an American view and the view of nations like Germany on how to regulate online environments, has been praised as the best of all the policy attempts so far to check the online Wild West. Yet the agile regulatory ecosystem it imposes – a framework that includes government, civil society, and users checking each other – is a year or two from being fully implemented. Twitter could be the first real-world test for checking the true power of the act, and its case will inform global policymaking.
"It's hard to know what Elon Musk is doing – it feels like he's trying to crash this thing," says Tyson Barker, a technology expert and senior fellow at the Atlantic Council. "The DSA is trying to create a kind of regulatory ecosystem for an extremely dynamic, extremely fluid space. … They don't want to be the truth police or a censor. They're saying we need a trustworthy [online] environment, and trustworthy environments require clear rules and impartial enforcement. And that is exactly what you're not getting with Elon Musk."
Benefits and societal risks
The DSA is Europe's behemoth of an attempt to catch up with a world in which much happens online.
The COVID-19 pandemic brought into newfound focus the danger of online misinformation, as governments tried to get people to mask up or vaccinate. But even before the coronavirus upended society around the world, European member states could point to online behavior with real-life consequences, whether it was the rise of Germany's far right via online misinformation and Islamophobic campaigns, or France's 2017 presidential elections being marred by information manipulation.
"While online platforms offer great benefits to users, they are also the source of great societal risks such as illegal content or dangerous goods," says Charles Manoury, an EU digital economy spokesperson. The DSA will make sure platforms' "power over public debate is subject to democratically validated rules." The EU's basic premise is that legislation must evolve to protect fundamental rights online.
Rather than mandate what's legal or not, the DSA sets clear boundaries for the digital space in a variety of aspects, and then delegates the responsibility of regulation to an ecosystem of actors. That ecosystem includes researchers who – with newfound access to data provided by the platforms under the DSA – are put in the position of "both pathfinders and as quasi-auditors," said Mathias Vermeulen, public policy director at the data rights agency AWO, in an online forum hosted by the German Marshall Fund of the United States.
In effect, the DSA won't have the EU moderate illegal speech, but instead requires platforms to report transparently on their own efforts. Platforms large enough to fall under its umbrella will need to assess all kinds of risks, including disinformation and hate speech. They must also hand over data related to the platforms' powerful algorithms at the request of a regulator, a groundbreaking requirement that would allow scrutiny from experts in their respective fields.
"For instance, to what extent does YouTube amplify or recommend COVID-19 misinformation?" says Dr. Vermeulen. "Companies will have to address these risks. They need to sort of identify, analyze, and assess any systemic risk related to things like design, functioning, or use of their services. And then we talk about this information."
The DSA represents a middle ground in governmental regulation of online environments. On opposite sides of the philosophical spectrum are the Americans and Germans. The Germans believe it's the responsibility of government to regulate the internet, contrary to the American tradition that government should stay out of regulating such things as private speech. The U.S. approach is currently to place responsibility on platforms themselves to create rules and abide by them.
In other words, Mr. Musk is headed for trouble, say experts. "We have to worry," says Annika Baumann, a social media expert at the Weizenbaum Institute for the Networked Society. "The actions he's currently undertaken do not follow the intention of EU rules."
And while the DSA can't be copied wholesale because of differences in countries' legal contexts, certain aspects are "extremely admired in the United States," says Mr. Barker, the technology expert, "including the fact that it's not looking to regulate speech. … It's looking to regulate terms of service and create transparency and create access to data and create accountability and risk assessments."
Its rules on access to data will be another area in which U.S. lawmakers are engaging, say experts. "In the U.S., that is sort of a relatively bipartisan topic where both Republicans and Democrats can see the value and could agree on potentially one form of legislation," says Dr. Vermeulen, the data rights public policy expert. "It's accepted by a wide range of regulators that it's really essential to gain more information about the potential harms or even positive effects of the use of a service in a specific jurisdiction."
A confrontation brewing?
Observers say that if Twitter continues as it has been under Mr. Musk, it will almost certainly run afoul of the DSA once it comes fully online in 2023 and 2024.
Mr. Musk has jettisoned half of Twitter's workforce, including workers who liaised with Brussels and oversaw content moderation. Twitter's heads of departments including legal, policy, and trust and safety have either resigned or been fired. "One of my limits was if Twitter starts being ruled by dictatorial edict rather than by policy. … There's no longer a need for me in my role, doing what I do," said Twitter's former head of trust and safety, Yoel Roth, in an interview following his resignation.
"[Mr. Musk] laid off a large part of his staff that dealt with regulations, and his data protection officer was gone before naming a new acting one," says Dr. Baumann, the social media expert. "These are very important things to have for a platform."
Commissioner Breton tweeted in November a list of things Twitter needed to start with: "implement transparent user policies, significantly reinforce content moderation and tackle disinformation."
Meanwhile, users rejoicing in Mr. Musk's "anything goes online" approach have spotted opportunities to engage in once-unacceptable behavior. Within hours of Mr. Musk's takeover, the number of "vulgar and hostile" posts based on race, religion, ethnicity, or sexual orientation skyrocketed. And just as winter approached, Twitter announced it would no longer police the spread of misinformation about COVID-19. Mr. Musk himself has tweeted content that would likely be in violation of European regulations, and also pushed targeted ads, regarded by the EU as a form of online surveillance.
The DSA has teeth: Violations can result in penalties of up to 6% of global annual turnover, meaning tens of millions of dollars for a company such as Twitter. When Mr. Musk arbitrarily suspended the accounts of several tech journalists who cover him, an EU official fired a shot across Twitter's bow. "EU's Digital Services Act requires respect of media freedom and fundamental rights. … There are red lines. And sanctions soon," tweeted Vera Jourova, the European Commission's vice president for values and transparency.
What's groundbreaking about the EU's approach is that most current attempts to regulate the digital space rely upon public-private partnership and cooperation. Yet governments don't have the resources or knowledge to moderate content on platforms, and platforms don't have the incentive or political will to do so, says Heather Dannyelle Thompson, manager for digital democracy at the Berlin-based research firm Democracy Reporting International. "That's why the DSA is a landmark in the absence of meaningful legislation from the [U.S.], the birthplace of many of the most prominent internet companies."
"There is room for them to evade"
Still, there are potential loopholes for Twitter to take advantage of. First, the infrastructure of the EU's plans – a central board, along with a national coordinator in each of the 27 member states, which will cooperate to supervise platforms and other entities in implementing the DSA – is cumbersome, with no real clarity yet on how enforcement will happen. "The intentions are very clear and very good, but we have to see how they work out," says Dr. Baumann, referring to the work that needs to be done as a "bureaucratic monster." "In Germany alone, in one year, there have been more than 20,000 instances [reported to state media authorities] where this board would have to take actions. There will be a lot of work."
It's also unclear whether Twitter, which by some reports has seen more than a million users leave the service since Mr. Musk's takeover, will continue to qualify as a "very large online platform (VLOP)" under DSA rules. Being a VLOP – essentially, reaching 45 million people – is necessary for EU regulators to impose some of the DSA's most powerful enforcement tools. (The EU does have latitude to apply the VLOP label outside the reach requirements, however.)
There is also speculation that Twitter could choose to incorporate in an EU member state with looser regulation and enforcement, says Ms. Thompson of Democracy Reporting International. "It's currently [in] Ireland, but could be changed in a move of political maneuvering," she says. "No one currently knows how Twitter will position itself. But … there is room for them to evade."
EU regulators must also decide fuzzier issues, such as whether failing to enforce a clear policy combating COVID-19 misinformation constitutes a breach. And, so, the saga will continue to unfold.
"If Twitter is still alive and kicking in a year when all the tenets of the DSA come into place, and still behaving in this kind of very capricious way, governed by one person with no compliance officers … they're going to be in for a world of hurt," says Mr. Barker.
Mr. Musk has so far been quiet in January, with no blatant violations of EU policy. But he did tweet a prediction about 2023: "One thing's for sure, it won't be boring."