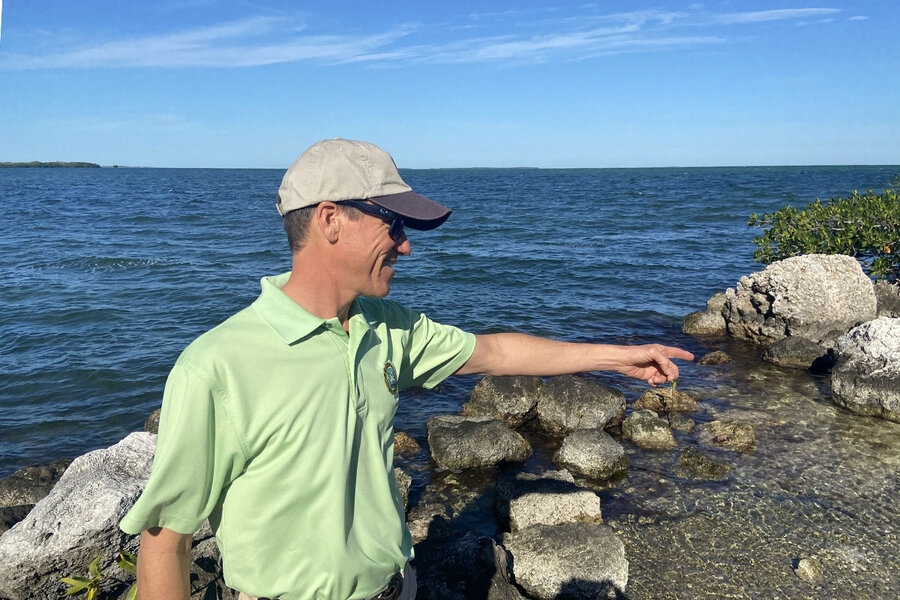 On environment, DeSantis charts a pragmatic path
But help is on the way for Islamorada, a community of 6,500 in the low-lying Florida Keys. Last year it received a $1.9 million grant to rebuild its breakwater after Republican Gov. Ron DeSantis signed into law the bipartisan Resilient Florida Program. The program is providing $640 million in its first year to help communities prepare for the impacts of climate change, including investments in sea walls, wastewater plants, septic tank conversions, and road elevations. That came on top of other environmental initiatives championed by Governor DeSantis in his first term, from Everglades restoration to water quality projects and wildlife protection. 
On the national stage, Mr. DeSantis is best known for point scoring in the political culture wars – whether it's taking on federal public health officials, attacking "woke" companies, or flying Venezuelan migrants to Martha's Vineyard. His pugnacious profile, along with his landslide reelection in November, has made him the most talked-about Republican eyeing the White House after Donald Trump.
But DeSantis allies argue that his true strength as a possible presidential contender lies in a pragmatic approach to governing – with the environment as Exhibit A. The governor's middle-ground approach to Florida's myriad environmental challenges, particularly its growing vulnerability to storms and flooding, helps explain his appeal to voters beyond the Republican base. It also offers a window into how he might govern as president, where the stakes are much higher when it comes to tackling the underlying causes of the warming effects that threaten his state and others. 
A "Teddy Roosevelt" conservative?
Mr. DeSantis has called himself a "Teddy Roosevelt" conservationist. But while President Roosevelt's interest in protecting natural resources grew from a lifelong love of the outdoors, Mr. DeSantis' approach seems more driven by concerns for Florida's tourist-based economy. 
"Anything that would hurt the [tourist] economy hurts Florida, and he's for doing anything to help," says Edwin Benton, a professor of political science and public administration at the University of South Florida.
During Mr. Trump's presidency, that included taking a stand against offshore oil drilling, which many Republicans support. Mr. DeSantis recognized that "one oil spill could ruin the beautiful beaches and damage the tourism industry," says Professor Benton. 
It's a different approach for a Republican politician – presenting economic and environmental interests as linked rather than at odds. Under Florida's previous GOP governor, Rick Scott, who's now the state's junior senator, water quality issues mostly took a back seat to real estate and other businesses. Governor Scott even banned the state's Department of Environmental Protection from using the words "climate change" and "global warming." 
By contrast, Mr. DeSantis, who took office in January 2019, vowed in his inaugural address to "lead the efforts to save our waterways," fight toxic algae and red tides, and restore the Everglades. "The water is part and parcel of Florida's DNA. Protecting it is the smart thing to do. It's also the right thing to do," he said. 
Even Mr. DeSantis' critics concede that he has followed through on these issues, though the results have sometimes fallen short. His administration has marshaled taxpayer dollars to increase water flow into the Everglades, increase water quality monitoring, reduce discharges into lagoons and bays, and create the Florida Wildlife Corridor, which connects state and national parks with tracts of open land to allow isolated groups of threatened species to intermingle. 
His policies haven't pleased everyone. Environmentalists say Mr. DeSantis has fallen notably short in addressing the root causes of climate change like greenhouse gas emissions. As warmer oceans fuel stronger, slower, and wetter tropical storms, Florida is facing more events like Hurricane Ian, which walloped its west coast in September, leading to 144 deaths and causing more than $100 billion in damage. The third most populous state in the U.S., Florida gets most of its electricity from natural gas and other fossil fuels, though its per capita emissions have been declining, mirroring the trend in the United States overall. 
Critics charge Mr. DeSantis with impeding some efforts to reduce Florida's emissions. In 2021, he signed a bill supported by power utilities that prevents cities from setting mandates for 100% renewable energy. He recently ordered state pension funds not to hold funds that monitor companies for their environmental practices. 
Politically, the governor has deliberately distanced himself from climate activists, whose policies he casts as impractical and economically harmful. "We're not doing any left-wing stuff," he told a press conference in December 2021 to announce a flood prevention program. "What we're doing, though, is just reacting to the fact that, OK, we're a flood-prone state." 
That focus on adaptation – while ignoring mitigation – will likely prove costlier in the long run, says Rick Kriseman, a Democrat who was the mayor of St. Petersburg from 2014 to 2022. "He cares more about dealing with the aftermath [of storms] and what do you need to do to become more resilient, as opposed to trying to have a positive impact on addressing climate change, which in the long run is cheaper," he says. 
Yet Mr. DeSantis has also sided with Democrats at times. Last year he surprised many by vetoing a bill that would have cut subsidies for residents with rooftop solar panels. "We have to give him credit for that," says Mr. Kriseman, a former state legislator. 
By prioritizing his state's natural resources and its bottom line, Mr. DeSantis is carving out a path with broad appeal, say allies. "I think he's not comfortable with the notion of turning on a dime overnight and trying to cure all the threats to our planet," says Adam Goodman, a Florida-based GOP strategist. "He knows what to do right now." 
The policies have particularly resonated with independent voters, adds Christian Ziegler, a former county commissioner in Sarasota who is running to chair the state GOP. In midterm polling, many unaffiliated voters cited the environment, among other issues, as a primary reason to support Mr. DeSantis. "There are independent voters who turned out to vote for him because of his position on the environment," Mr. Ziegler says. 
Behind the breakwater
In the case of Islamorada, the crumbling breakwater had been a concern for years, but there was no money to fix it. The state grant was "perfect timing," says Mr. Frezza. The village is preparing to solicit bids to rebuild and raise the barrier, though the final cost will likely exceed the $1.9 million grant as construction costs have soared since the project was first assessed.
Behind the breakwater, dozens of boats line the marina. One, a 48-footer called Vital Time, belongs to Tom Vitale, a retired surgeon from St. Louis who lives on the boat with his wife.
It's about time Islamorada rebuilt its sea wall, he says. "The waters are coming up, there's no doubt about it. If they want to keep this marina, it has to be done." 
He says he disagrees with Mr. DeSantis on most social issues, but voted for him anyway because of fiscal matters. And the governor's coastal resilience projects are another big selling point. "He's a man of action," he says. 
Farther down the marina, Mary Dobson's 32-foot sailboat has been her home for 25 years. The senior works the turnstile at the island's 40-acre park, which has an Olympic-sized pool and a sandy beach. 
Ms. Dobson is delighted that the breakwater will be rebuilt and is full of praise for the governor. "I love DeSantis. He's a good man. He's done a lot for this state," she says.