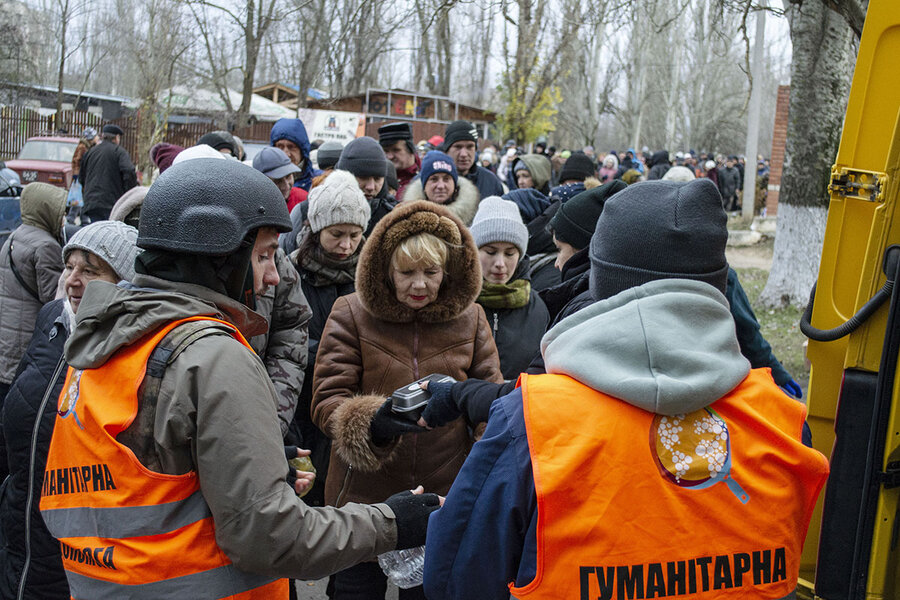 Compassion
While soldiers fight, Ukrainians face another threat: hunger
Food security has become critical to Ukraine's defense against the Russian invasion. Volunteers willing to drive and hand out much needed groceries to cities under siege are key to that effort.
Still, "we have a feeling that there's enough food" in the city, says Natalia Levinskaya, one of the volunteers. "We are not the only ones who help."
Food access has become a battlefront in Ukraine's war. Almost a year ago, Russia began a blockade of the Black Sea ports that handled 70% of Ukraine's prewar imports and exports, putting a vice on the economy and raising the price of grain worldwide. Inside the country, especially near the front lines, food insecurity can be an almost daily threat. Were access to dip even slightly, a city like Kherson could face a humanitarian crisis.
Aid workers like Ms. Levinskaya have helped keep that crisis from becoming reality. Each day she arrives at a distribution center in Mykolaiv at 7 a.m. and then delivers hundreds, if not thousands, of meals until as late as 10 p.m. She and her team of volunteers are in the phalanx of Ukraine's wartime civil society, which has met need after need since last February and sustained their country's fight on the home front. 
"This is always the case in Ukraine," says Oleg Nivievskyi, a professor at the Kyiv School of Economics' Center for Food and Land Use Research. "When there is an opportunity, Ukrainians are very entrepreneurial and can find ways to deliver the food."
"Not just about food availability"
Each week Professor Nivievskyi monitors the availability and price of 21 staple groceries like flour, bread, and eggs, along with the average salary in each region of Ukraine. Together, the data form an index of food security, which is essentially an estimate of how much food people can afford in each part of the country. As of September, depending on the area, the food-buying power of the average Ukrainian had had fallen by as much as 44%, according to his index.
"Food security is not just about food availability," says Professor Nivievskyi. "This is also about the incomes."
By October last year, the last month for which data is available, the World Bank had Ukraine's food inflation at 36%, among the highest rates in the world. That's been particularly difficult for citizens with fixed salaries.
Maria, an elderly woman wearing a thick brown coat, grabs a bag of groceries from the volunteers and stands to the side. She and her husband live on pensions, which now buy less than they used to, and can be difficult to access. In early December, they had to collect their pension from another bank further away because the local branch closed due to shelling.
"I have something at home, of course – some reserves," she says, looking down at her bag of food. "But this helps."
Kherson is far different than cities like Kyiv, Lviv, and Odesa, where supply chains are working almost like normal. Even in a battered city like Mykolaiv, about 45 miles northwest of Kherson, grocery stores are fully stocked with fresh fruit and meat.
"Some of [the supply is coming from] normal market transactions – food being imported from Western Europe," says Elizabeth Cullen Dunn, who studies food security at the University of Indiana, Bloomington.
Ukraine is an agricultural powerhouse, which helps when war threatens domestic food security, she says. Agricultural products accounted for around 40% of prewar exports and only 10% of prewar imports. Grain and other foodstuffs trapped inside the country due to Russia's blockade – partially eased by a grain deal negotiated by the United Nations – can also feed Ukrainians.
In addition, says Professor Nivievskyi, Kyiv has relaxed some requirements for food imports since the war. Labels, for example, no longer need to be translated into Ukrainian.
It's only in areas near the front lines where food availability and affordability are both acute. At the start of December, Kherson – whose population has hovered around 70,000 since liberation – only had one open grocery store.
In cities like this, says Professor Dunn, volunteer networks keep the food supply stable.
"We just wanted to help"
Last spring in Mykolaiv, Ms. Levinskaya, her brother, and her son all quit their jobs. War had come to their hometown, and they decided they were going to start volunteering.
"It didn't matter for us" what kind of work we did, says Ms. Levinskaya. "We just wanted to help."
At first, they started dropping off food unofficially, distributing 10 to 20 kits a day with the help of local officials. They later joined World Central Kitchen, one of the largest nongovernmental organizations operating inside Ukraine, to expand their reach.
Each day, after loading hundreds of prepackaged bags into their vans, the family flashes their IDs at military checkpoints and visits points in Kherson marked on a map the night before. When artillery attacks land nearby, they have to speed somewhere else. Otherwise, people will keep lining up, putting themselves in danger.
A single day's worth of deliveries can be up to 6,000 meals, though the number varies widely. The most people they ever saw queued for a single drop was 1,500.
"All the people are in need," says Ms. Levinskaya. "It's younger people, older people, people who don't have jobs, families – they need food."
Their bags of food are full of pasta, sugar, meat, flour, oil, and other nonperishables – a two-week supply for one person. "These are the best food packages that you can find," says Ms. Levinskaya. "People call these the 'presidential packages.'" Her son jokes that they're fit for President Volodymyr Zelenskyy.
Their own income is less luxurious. Since leaving work, the family relies on government unemployment aid to pay bills. "We get used to it," says Ms. Levinskaya. "This is the way you can be at least helpful."
Regardless, she says, everyone's adapting. In early December, Kherson had little access to electricity, and many lacked water. People whose gas stoves still worked could cook inside. Those who didn't had to heat their food on campfires outside.
The work to meet that kind of demand is immense – but so is the reward, says Ms. Levinskaya.
"You feel satisfied and you feel joy," she says, "the joy that people need you and you do something to help them."
Oleksandr Naselenko supported the reporting of this article.