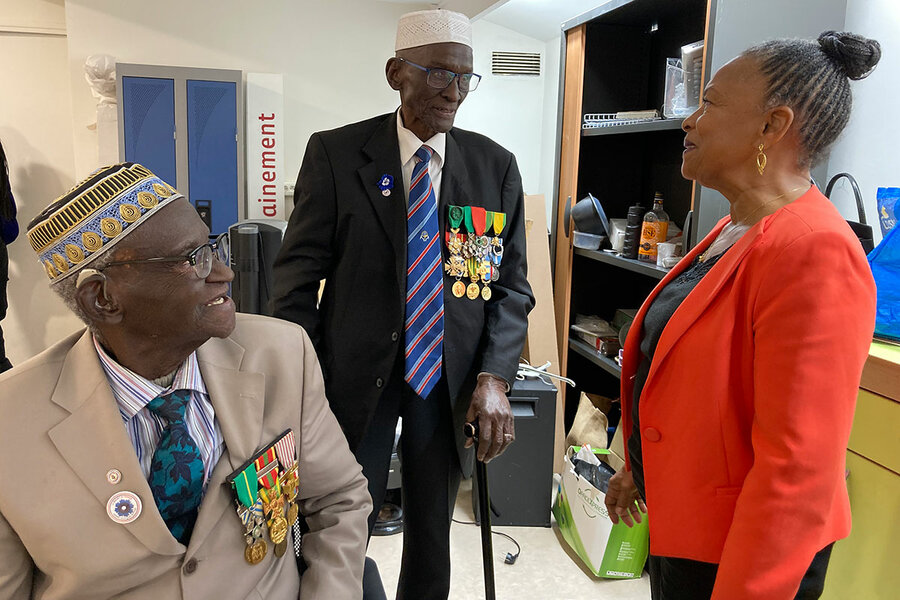 Respect
Is France finally paying respect to its aging African soldiers?
Tirailleurs sénégalais – Senegalese colonial infantry – fought wars for France, but have been treated like second-class soldiers. Now, with a blockbuster film and pension reform, they may be getting their due.
Born in Senegal in 1933, Mr. M'Bodji fought as a tirailleur in both the First Indochina War and the Algerian War. But today, the contributions of Mr. M'Bodji and his comrades in arms to French history are lost on a majority of the French public. Even if they represented around 200,000 troops in World War I and continued fighting for the French army until the end of the war in Algeria in 1962, their presence in school history books is slim.
Today, only a few tirailleurs remain. But between a blockbuster film and recent political gains – in particular the right to receive their military pensions without meeting onerous residency requirements – there is hope that this will be a critical moment for France to revisit an important piece of its history. That would offer an opportunity for a multilayered dialogue about how the country can properly transmit the collective memory of its colonial past and do right by those who risked their lives to maintain French dominance.
"We're in a place now where we can open that door, expose and challenge injustices," says former Justice Minister Christiane Taubira, in Bondy. "France would not be what it is today without this story. [The film] is a pedagogical tool to teach the next generation. We can't keep them away from history."
France's colonial troops
The tirailleurs sénégalais were formed in 1857 by Gen. Louis Faidherbe in an effort to strengthen France's military. Known at the time as the "Black army," the colonial soldiers were first recruited from Senegal, and later across all of French colonial sub-Saharan Africa.
As well as fighting during World War I – when 30,000 died – around 140,000 African soldiers fought under the French flag in World War II. During the First Indochina and Algerian wars, the tirailleurs represented 16% and 5% of the French army respectively, before their corps was dissolved in 1962 with the end of French colonial rule.
While the tirailleurs eventually lived and fought alongside French soldiers, they – like all Africans from the colonies – did not have the same rights as French citizens. In WWI and WWII, they wore a distinct uniform and were billeted in separate sleeping quarters. Considered "less intelligent" than French soldiers, they were most often sent to the front lines – accounting for their extraordinary loss of life in combat.
And yet, historians say it would be inaccurate to paint a picture of all tirailleurs as victims.
"Some tirailleurs were conscripted, at times violently, but others joined voluntarily," says Claire Miot, a history professor at Sciences Po in Aix-en-Provence. "There was prestige in joining the army – you ate and lived relatively well. Certain tirailleurs wanted to save the homeland. All types of situations existed."
"Still, the tirailleurs were colonized peoples, used for the purposes of colonizing and oppressing others," says Dr. Miot. "That's where the true paradox lies."
Nonetheless, dissent within the ranks was relatively rare. Even during the Algerian War, when some questioned the tirailleurs' allegiance to France, loyalty rarely wavered.
"There were fears that there would be a kind of Muslim solidarity between the tirailleurs and the Algerians, but this never happened," says French historian Anthony Guyon. "They were fully integrated into the French army and fought to win French territory. But later, they weren't given the same recognition."
Second-class soldiers
Once France's African colonies gained their independence in the early 1960s, the tirailleurs were sent home and left in administrative limbo. While some stayed in their home countries, other settled in France; none of them received a pension more than half as big as their French comrades in arms.
It wasn't until 2006, on the back of the film "Indigènes" – which recounts the story of North African soldiers who fought for France in WWI – that President Jacques Chirac rectified that.
But despite their service to the country, the tirailleurs were still not officially French. It took the persistent work of Bondy politician Aissata Seck, herself the granddaughter of a Senegalese tirailleur, to push for that right. In 2016, then-President François Hollande finally granted 28 former tirailleurs French nationality.
Even then, the former tirailleurs were required to live at least half the year in France to be eligible for their pensions. That put veterans like Mr. M'Bodji in a situation where he spends half the year in Senegal and the other half here in Bondy, a suburb of Paris, where he lives in a men's hostel with a half-dozen other tirailleur veterans. They each have a 32-square-foot bedroom with a toilet and share a kitchen. "In Senegal, we have a big house, family to help cook and shop. … Here we have to do everything ourselves," says Mr. M'Bodji. "Everyone is very nice to us, but it's difficult for us here. We're old and tired."
On Jan. 5, Mr. M'Bodji and his fellow veterans – of whom there are around 40 still living across France – won a victory. Just as "Tirailleurs" hit cinema screens, the French government announced that it would finally allow the former soldiers to receive their €950 ($1,030) a month French pensions even if they lived in their countries of origin.
"France has trouble dealing with this part of history because it brings up a lot of shame: men who were forced to fight – and died – for a territory that wasn't theirs," says Ms. Seck. "But this is part of our history and even though it's tragic, we must commemorate these men and women. We need to constantly challenge politicians and remind them of the importance of their story."
That has meant providing justice for the tirailleurs at both an administrative and a symbolic level. Though it has been slow, recognition is coming. Last year, a nonprofit in Paris staged a monthslong exhibition dedicated to the tirailleurs, and in March, the Porte de Clignancourt intersection will be named after them.
"Remember us"
Director Mathieu Vadepied says he hopes his film can help pull the tirailleurs' story out of the shadows and serve as an educational tool for young people. In France, where questions of identity and a sense of belonging have been at the heart of turmoil in recent years among children from post-colonial Africa, "Tirailleurs" provides an opportunity to shift mainstream discourse.
"The tirailleurs' story might not be well known in France, but for most African families, we know someone who fought," says Kinsi Agbangbe, in Bondy, whose great-grandfather left Benin to fight for France in WWI. "In Africa, our stories are shared orally; they're not written down, so they get lost. What we read in history books should be written by those who lived the experiences, but this isn't always the case."
At the end of the film, star Omar Sy's haunting voice resonates across a black screen: "Remember us." It's a message that the remaining tirailleurs, four of whom attended the film screening at the Bondy cinema, hope the French public will retain.
But for now, 95-year-old Yoro Diao is focused on the near future and spending his remaining years in his native Senegal.
"I have enjoyed living in France. I grew up feeling French," says Mr. Diao, in a stiff black suit and white Kufi hat. "But I have my wife, 12 children, grandchildren, all back home. And there is some nostalgia for them to see their grandpa."