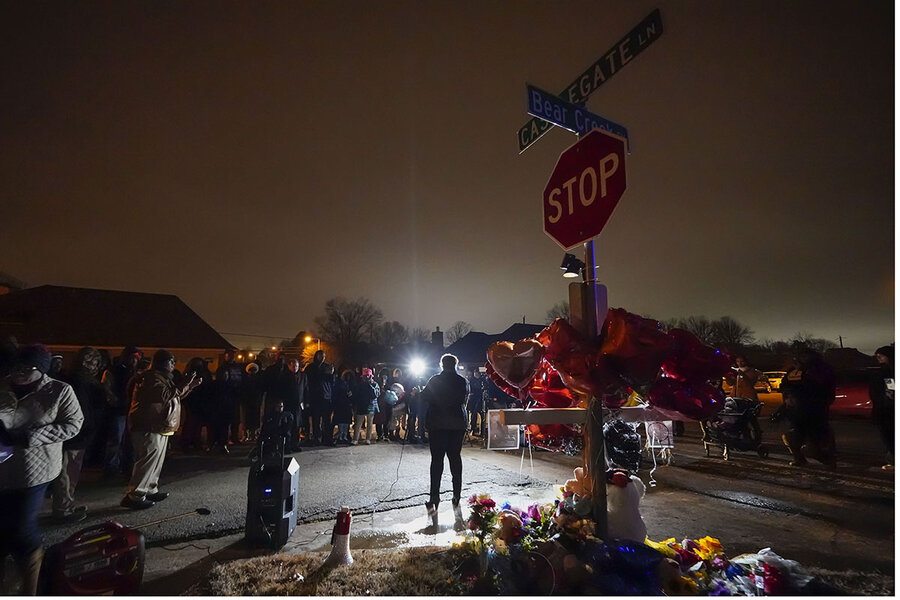 Safety
Why diversity hasn't changed policing
The police killing of Tyre Nichols shows that hiring Black officers is not a solution for violence against Black communities. Instead, for policing to change, culture needs to change.
So a few years ago, newly married, he made a major life decision. Tired of arresting people who looked like him, he turned in his badge.
"Some research shows that Black officers can be harder on people of their own race because they want to clean up communities," says Dr. Johnson, now a criminologist at Georgia State University in Atlanta. "They have a much more emotional attachment. Misconduct can stem from nobility."
Being a Black police officer, he adds, is "a very, very lonely place. It's a very fine line of walking."
American policing is an institution in search of a solution. Tyre Nichols was buried Wednesday at a funeral attended by Vice President Kamala Harris and the Rev. Al Sharpton. If trends hold, he will be one of about 1,000 people who die from police violence in the United States this year. Despite significant police reforms since the police murder of George Floyd in 2020, that number is no lower now than it was then.
Mr. Nichols' death at the hands of five Black police officers is an alarming reminder that one answer advocated for more than a century hasn't worked. Diversifying police departments alone doesn't solve police brutality.
The problem, former officers say, is that the culture of policing matters more than the race of police officers. From field officers to rookies flow certain lessons: that police are often in danger, that their authority is essential, that a "warrior mentality" protects them. The process stifles efforts at reform, and for Black officers, can present a wrenching choice with the same outcome: Stay and conform to the culture, or just leave.
"You change the officer's race, but you don't change any of the other things and you get the same style of policing with people of a different color doing it," says James Forman, a professor at Yale Law School and author of "Locking Up Our Own: Crime and Punishment in Black America." "That's what we see in Memphis."
New officers, same results
The movement to integrate police departments began in the mid-1900s with a simple slogan: "105,000 negro citizens rate at least one negro police."
Atlanta's Black community leaders marched under that banner for decades, according to Professor Forman's book. At the start, the idea was radical. The ability to enforce a society's laws was a sign of first-class citizenship – something African Americans didn't have in the Jim Crow South.
The effort was in pursuit of equality and better policing, since white officers often couldn't tell different members of the Black community apart. Leaders like Martin Luther King Sr. campaigned for integration. They succeeded in 1948, with the hiring of eight Black police officers, exhorted by the mayor at their swearing-in ceremony to do for policing what Jackie Robinson had done for baseball.
Later, in the 1970s and 1980s, affirmative action accelerated Black hiring. But it also coincided with the country's intensifying war on drugs, which featured new, militarized policing styles, including the emergence of SWAT and aggressive quick-strike units that prioritized arrests in volume.
Police began to look different, but policing didn't.
That's still true today, says Sean Nicholson-Crotty, a professor at Indiana University in Bloomington, who studies the effect of representation in government.
In most other institutions – education, for example – having officials who look like the people they're serving improves treatment. But not in policing, he says. According to his research, a higher share of Black officers in a department doesn't reduce the number of police killings.
The reason why, Professor Nicholson-Crotty argues, is culture. Policing is a high-stress job widely perceived as extremely dangerous within the field by officers themselves. It's also structured with clear, hierarchical ranks, which makes it easier to communicate norms.
Professor Nicholson-Crotty's research suggests training new officers to manage stress and de-escalate confrontations. But the effect is somewhat muted unless the department has high personnel turnover. Otherwise, new officers just learn from their superiors.
"If you ask any police officer … what did you learn from your field training officer, they will tell you [they heard] 'Hey, kid, you know, you learned that stuff at the academy, right? Throw that book out. I'm gonna show you how it's really done.' That's the culture of policing," says De Lacy Davis, a former 20-year officer in New Jersey and founder of Black Cops Against Police Brutality.
The view from Memphis
By many accounts, that is the state of affairs in Memphis, where both the city and the police department are about 65% Black.
Begun in 2021, a specialized unit named SCORPION – to which the officers who beat Mr. Nichols belonged – scoured the city at large for reckless drivers. In some ways, that unit was the result of a majority-Black city calling for an aggressive response to its then-rising violent crime rate. Memphis Police Chief Cerelyn "C.J." Davis debuted the 40-officer unit in 2021. She disbanded it on Saturday.
"If the only thing you are offered is cops gone wild, there is some segment of a [Black] community that is terrorized at all levels, that will say, 'This [is terrible], it's putting my family members at risk, but I will take that over what [people committing crimes] are doing,' " says law professor Craig Futterman, director of the Civil Rights and Police Accountability Project in Chicago.
That desire signifies the core issue for many Black Americans, by far the most likely to suffer from crime but also by far the most likely to suffer from police brutality. Many view police as a highly flawed but still essential institution. And many leaders have also been divided on whether diversity will help.
Regardless, there are other reasons to become an officer. Policing has historically been a path to the middle class, with ample benefits and a solid pension. "We sort of assume that everybody or even most people who are joining a police department have a strong position on" policing itself, says Professor Forman – not so.
Dr. Davis – with Black Cops Against Police Brutality – has lived those dynamics. Dr. Davis, who is Black, worked for two decades as a police officer in New Jersey, starting in the 1980s.
As a young officer, he quickly came to understand how there are different standards for different suspects. It was department policy to handcuff all those brought to the jail. But he watched suspects who were white women regularly show up without cuffs.
Yes, he says, police officers have to use discretion or drown in a waterfall of citations. Enforcement is selective, but unevenly distributed.
Throughout his career, Dr. Davis says he chafed against such double standards.
Dr. Davis says he believes that Black people are fundamentally loyal to the interests of other Black people. But policing can distort that affinity.
"For a Black officer … you're expected to demonstrate that you're not them. You're us. It's the dominant culture."
For Dr. Johnson, the former Memphis officer, his change of profession hasn't felt like giving up. Along with his wife, Natasha Johnson, also a professor at Georgia State, he continues to bring a Black perspective to reforming a struggling profession.
"Once you put that uniform on, you realize it's a misnomer that Black people don't want to be policed or don't respect the police," says Dr. Johnson. "They want what everyone wants: to be treated with respect and treated fairly. That makes a Black police officer a walking paradox."
Editor's note: The bracketed text in Professor Futterman's quote has been changed to more accurately reflect his meaning. In addition, an attribution has been added for Professor Forman regarding details about the history of policing in Atlanta.