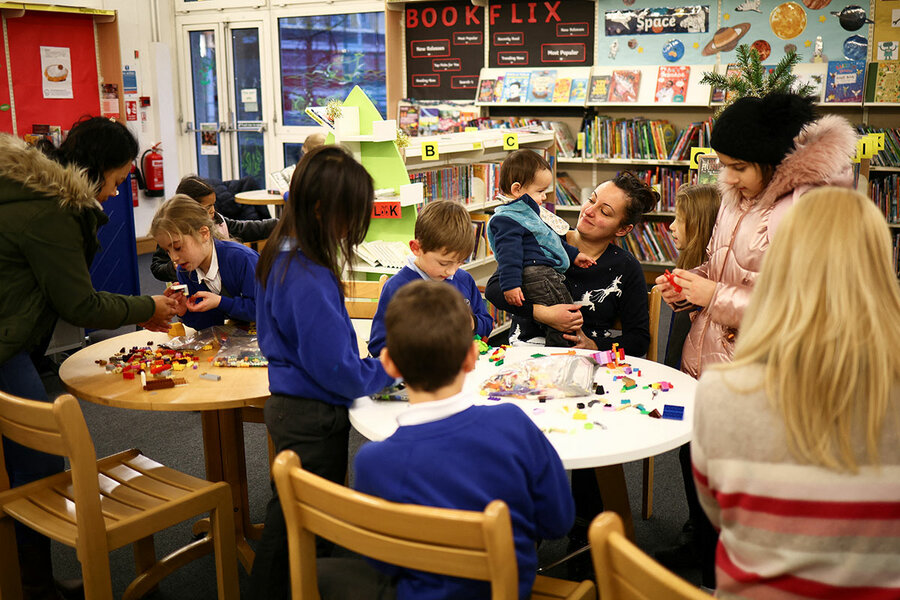 Compassion
For Britons seeking warmth, camaraderie can be as important as heat
Energy costs are so high in the United Kingdom that many Britons are unable to heat their homes properly. So communities are setting up warm places where they can come, without judgment, to escape the cold.
With the cold settled in and the war in Ukraine unsettling markets, energy prices are up. While the U.K. Health Security Agency is encouraging people to warm their homes to at least 18 degrees Celsius (64.4 F), more than 3 million low-income households cannot afford to heed this advice. According to analysis by the Joseph Rowntree Foundation, around 710,000 households across the U.K. cannot pay for warm clothing, heating, and food, with approximately 2.5 million households – a fifth of all low-income households – going without both food and heating.
And with power prices hitting record levels and energy costs double what they were last year, warm spaces have popped up all over the country. To avoid any potential stigma, they're being presented as communal spaces where people can come to chat rather than charitable offerings of heat or food. While the main reason someone would go to a warm space or public living room is most likely to be warmth, it's the camaraderie and conversation that keeps people there. 
Or, as Mr. Potts says, "Less soup and blankets. More friends and purpose."
Months without access to energy
Britain's poor people face the worst winter in living memory, tweeted former Prime Minister Gordon Brown in December. "A year ago we talked about people having to choose between heating and eating, now many can't afford either," he wrote. Two-thirds of the country will be in fuel poverty come April, which includes 70% of pensioners and 96% of single-parent families with two or more kids, he noted.
In October, the U.K. raised its energy price cap, the maximum rate a supplier can charge for their default tariffs, by 80%. Gas prices have risen to record levels following Russia's war on Ukraine. Combined with inflation at over 10% and interest rates and rental costs rising at the highest rates on record, much of the British population is struggling to afford the basics. Fuel poverty and energy efficiency charity National Energy Action (NEA) estimates that there are already 6.7 million households living in fuel poverty. And with bills almost double what they were last winter, 2.4 million people have used credit cards or borrowed money to pay them this year.
If you're struggling to pay to heat your home, you only really have three options, says Matt Copeland, NEA's head of policy: You could rack up debt with your energy supplier, ration your energy and use less than you need to stay warm, or simply turn off the heating, the impact of which can be significant. Research shows that more people die from cold homes than they do from alcohol's short- and long-term effects, Parkinson's disease, or traffic accidents.
"We know of households with prepayment meters who just can't afford to top them up at all," says Mr. Copeland. "They're going days, weeks, and sometimes months without access to energy. That's really the worst situation, but unfortunately, it's becoming more and more common."
Where the government is failing, communities are stepping up. "It is completely absurd that one of the 10 richest countries in the world can't put a sufficient priority on things and make the right choices so that we have somewhere to keep people warm," says Mr. Potts of Camerados, whose public living rooms are now being used as templates for warm spaces around the country. After almost 30 years of working with people at the margins, Mr. Potts says he doesn't have faith that the solution lies in the civil service.
"Governments might come in for four years, ministers might last a couple. Their ideas are transitory and political. What we need are ideas that last longer than those. And those are coming from communities themselves."
"People have stuck together"
An LGBTQ+ community space in Brighton. A bakery in North Yorkshire. A gaming cafe and "geek culture" store in Ipswich. A vegetarian restaurant in Tunbridge Wells. A brewery in Devon. A former shoe store in Worcestershire. Warm spaces are popping up all around the country, in all manner of ways, in a community effort that started organically, from the grassroots, without a central organizer.
In addition to community halls and churches, hotels, hairdressers, and cricket clubs are opening up their doors for anyone who needs some warmth, some company, and perhaps even a drink. Even legendary soccer club Manchester United has gotten in on the action and is offering Old Trafford, the club's stadium, as a free warm hub, with its restaurant, the Red Café, opening its doors on Monday and Wednesday evenings "to help those facing difficult months ahead."
The Warm Welcome campaign, an organization that has encouraged thousands of faith groups, charities, and businesses to provide such public spaces, said they'd seen 80,000 people use their facilities during December's cold snap. The campaign notes that there are now warm spaces in every town and city in the country, and lists over 3,200 venues on their website, which include spaces run by local authorities, charities, and businesses. More than half of the 355 councils (local governments) in England and Wales are setting up or supporting groups to open warm spaces.
"What we have in Brighton and Hove is a tremendous community-mindedness among residents. Despite the stark reality facing residents this winter, people have stuck together and they've really helped each other through some of the starkest problems," says Brighton and Hove City Council Leader Phélim Mac Cafferty, who notes there are more than 40 warm spaces available to the public across the city. "Without the goodwill, the solidarity, the community aspiration around all of this, we'd be nowhere."
This nationwide response to the energy crisis is unique in how much of a community effort it is. The effort to create warm spaces was neither government- nor council-led, nor the work of any one particular organization. As the need became obvious, first volunteers, then organizations, and later local councils jumped in feet first.
Both public and private money is funding the warm banks initiative to ensure that the most vulnerable – particularly children and the elderly – are not forced to sit in unheated homes through the winter months. Several venues offer free or discounted drinks, and many have planned activities for visitors who may be battling isolation in addition to the cold.
Mr. Potts says his organization's efforts are most popular in towns that get very little help and are often seen as hopeless. Camerados' open living rooms, which have spread internationally, tend to be in places where people expect to have to rely on themselves. "The warm banks campaign is exactly that," he says. "Help isn't coming. And so we're just going to get on with it."
But often, Mr. Potts suggests, making an effort ends up making a difference.
"Lately," Mr. Potts says, "I've been doing pavement living rooms. I turn up in a town with a van full of furniture, and I put it on the pavement and just talk to everyone who goes by. We don't ask for permission. I suppose it's illegal. [But] every time the police come, well, … they sit down and join us."